It's a Mystery

This article is conjecture no official name has been given to the subject, so we're using a placeholder name until an official one is found.
Wildly Frozen is a Wild Kratts AU that was created by a bunch of
people
.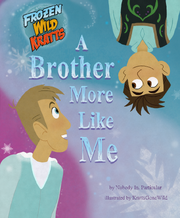 Characters
Edit
Martin as Elsa
Chris as Anna
Donita Donata as Hans
Zach as the Duke of Weasletown
Tania Armstrong or Aviva as Kristoff
Kenny as Olaf
When their kingdom becomes trapped in perpetual winter, fearless Anna (Chris Kratt) joins forces with mountaineer Kristoff (Tania Armstrong or Aviva) and his reindeer sidekick to find Anna's brother, Snow Queen Elsa (Martin Kratt), and break his icy spell. Although their epic journey leads them to encounters with mystical trolls, a comedic snowman (Kenny), harsh conditions, and magic at every turn, Anna and Kristoff bravely push onwards in a race to save their kingdom from winter's cold grip.
Ad blocker interference detected!
Wikia is a free-to-use site that makes money from advertising. We have a modified experience for viewers using ad blockers

Wikia is not accessible if you've made further modifications. Remove the custom ad blocker rule(s) and the page will load as expected.