A Creature Pod is a mobile invention that has been created by Aviva. It has a number of functions, mostly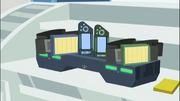 communication between the team.
The whole crew has their own Creature Pod. Martin and Chris keep theirs on their gloves or in their pockets, while Aviva, Koki, and Jimmy Z keep theirs in their pockets.
The Creature Pod is a small, hand held device similar to an iPhone. It has four buttons shaped into a paw print.
Capabilities
Edit
Scanner
Fishing Rod (Seahorse Rodeo)
Chisel (Seahorse Rodeo)
Hologram
Phone
SOS Messaging (Praire Who?)
In the pilot episode, Polar Bears Don't Dance, the holograms appear with a purplish hue.

In the other episodes, the hologram colors depend on the Creature Pod color.
A creature pod looks like a GBA
Ad blocker interference detected!
Wikia is a free-to-use site that makes money from advertising. We have a modified experience for viewers using ad blockers

Wikia is not accessible if you've made further modifications. Remove the custom ad blocker rule(s) and the page will load as expected.